National Inventors Hall of Fame
Induction May 4, 2011
<![if !vml]>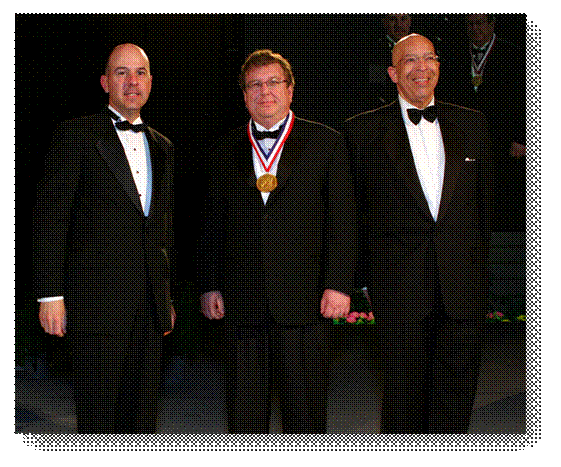 <![endif]><![if !vml]>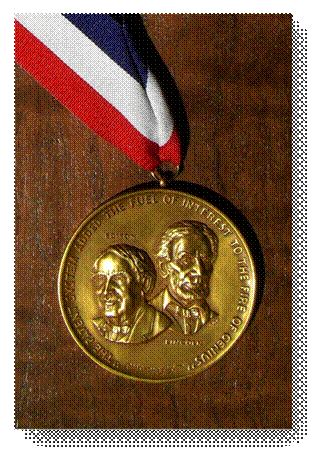 <![endif]>
(l-r)  David Kappos Under Secretary of Commerce for Intellectual Property and Director of the United States Patent and Trademark Office (USPTO), Eric R. Fossum, Edward Gray, Chairman of the Board of Directors of the National Inventors Hall of Fame
Citation:
Meet the 2011 National Inventors Hall of Fame Inductees
<![if !vml]>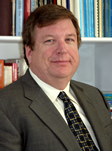 <![endif]>
 
Eric Fossum (October 17, 1957 - )
CMOS Active Pixel Image Sensor Camera-on-a-Chip
Eric Fossum led the team at NASA's Jet Propulsion Laboratory that created a miniaturized camera technology known as the CMOS active pixel sensor camera-on-a-chip. Today, CMOS image sensors are a fixture in imaging.
In 1990, Fossum joined JPL to bolster image-sensing research for space applications. To reduce power and size of CCD cameras for interplanetary spacecraft, he used CMOS technology to put all necessary technology on one chip. Each chip contained arrays of light-sensitive pixels, each with its own amplifier. Circuits within the chip allowed functions like noise reduction, analog-to-digital conversion, and digital image processing.
Fossum and JPL co-workers formed Photobit Corporation in 1995, which was eventually acquired by Micron in 2001. Worldwide annual revenue for the technology is estimated to reach $6 billion in 2011.
Over 90% of camera phones use the CMOS image sensor technology. The CMOS sensor market continues to grow with applications that include digital SLR cameras, embedded web-cams, video cameras, automotive safety systems, swallowable pill cameras, toys and video games, and wireless video-security networks.
Born in Connecticut, Fossum received his B.S. from Trinity College, and his M.S. and Ph.D. from Yale. He was with Columbia before conducting his CMOS work at JPL and recently joined the faculty at Dartmouth College.
<![if !vml]>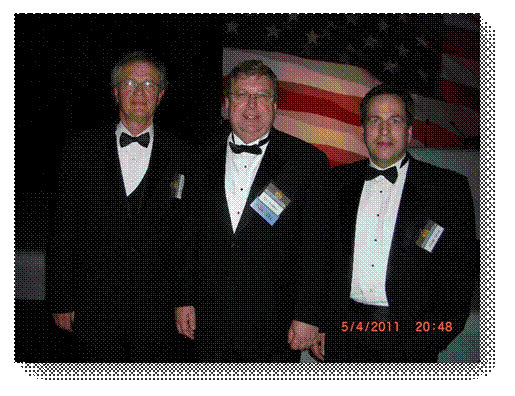 <![endif]>
Prof. David Ahlgren, Trinity College, Eric R. Fossum, David V. Rossi, Ph.D., J.D.
My engineering mentor during college and now friend and my Ph.D. student now friend and patent attorney.  Thanks guys for your support and friendship!
<![if !vml]>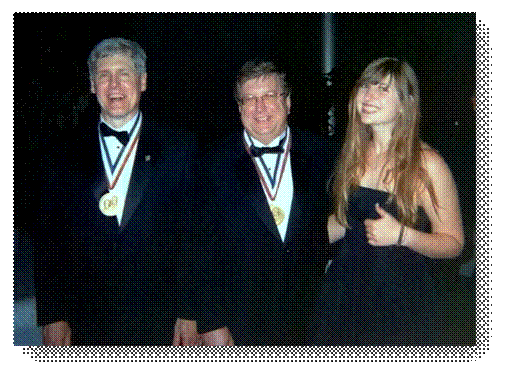 <![endif]>
Steve Sasson, Eric R. Fossum, Kirsten N. Fossum
After the ceremony Steve Sasson, inventor of the digital camera c. 1975, and I were standing around in our penguin suits with our medals draped around our necks looking somewhat dapper. My daughter, 19, comes over and says let me take a picture of the two of you. Steve and I both think it is a splendid idea, we pose, suck in our respective guts, and my daughter reaches into her handbag. She pulls out a Kodak disposable film camera and snaps some shots as Steve and I are spluttering about her using film. She then reveals that this is her gag gift to me for the evening - to have our pictures taken with film. We laughed long and hard about that. Here is a picture a few moments later, captured with that same disposable film camera by my other daughter Ryanna.  This picture just cracks me up.  Good one Kirsten!